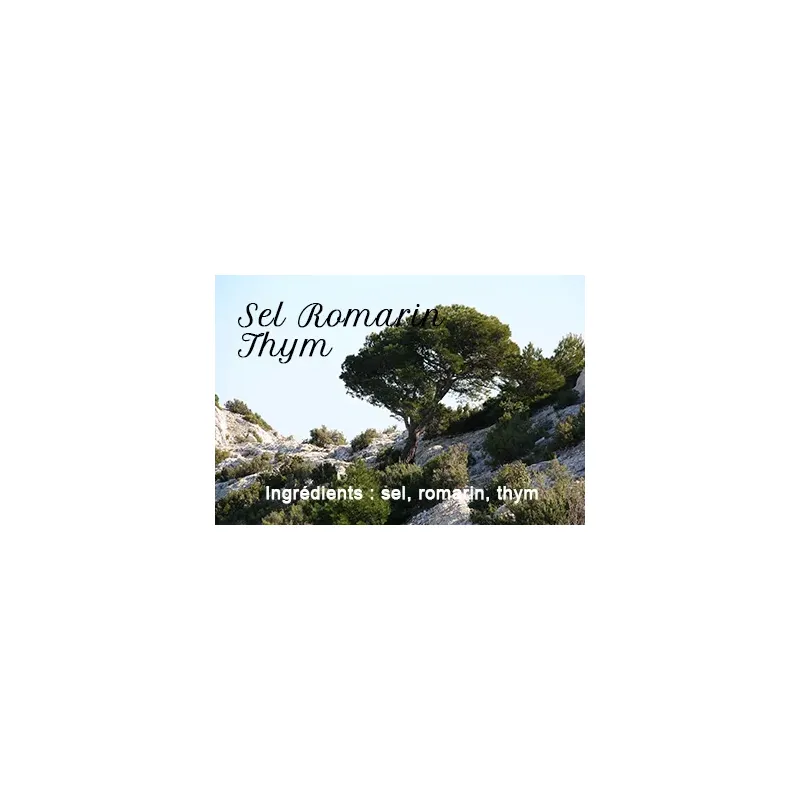  
Toutes nos plantes, fleurs, feuilles et fruits sont d'origine naturelle .
Aucun arôme artificiel vient altérer nos mélanges.
Et encore mieux, c'est une particularité qui nous différencie de la plupart des vendeurs de thés et tisanes : il n'y a aucun arôme ajouté, même naturel, il n'y en a pas !
Nous défendons le goût et la saveur originelle : pourquoi en ajouter alors que les plantes en contiennent naturellement ?

Plus de détail sur le contenu de nos mélanges ici
Specific References
mpn

LCET105
Rosemary and Thyme Salt
Our Rosemary and Thyme Salt is a delicious combination of aromatic herbs and sea salt, designed to add flavor to your favorite dishes.
Rosemary and thyme are two classic herbs of Mediterranean cuisine, which add an aromatic and fragrant touch to any dish. Sea salt, naturally rich in minerals, is the perfect complement to enhance the flavor of herbs and add a touch of crunch to your dishes.
Our rosemary and thyme salt is very versatile and can be used to season a variety of dishes, from grilled meats and fish to roasted vegetables and sauces. It is also perfect for adding flavor to soups and stews.
This premium salt is easy to use: just sprinkle a pinch on your dishes to add flavor and texture to your food. It also comes in a pretty glass jar, which will add a touch of elegance to your kitchen.
Our Rosemary and Thyme Salt is an ideal choice for cooking enthusiasts looking to add flavor to their dishes without using artificial additives or preservatives. It's also a great gift idea for friends and family who appreciate quality cooking.
The "Stripe" banking module allows you to make payments in a totally secure way.
We prepare your package within 24 hours and ship throughout Europe.
Politique retours
We accept product returns, please contact us if necessary.
4 other products in the same category: